FLISOL 2007 in Guadalajara
by Ploum on 2007-04-24
This Saturday 28th of April 2007 is the day of FLISOL, the Festival Latinoamericano de Instalación de Software Libre. Many events take place in many countries such as Argentina, Chile and, of course, Mexico.
There will be plenty of interesting conferences such as « Python and MIDI » by Patricio and « Secure Login and One-time Password » by Thomas, which should work hopefully better than last saturday 😉
At 13:00, I will give a conference in el Centro Universitario de Ciencias Económico Administrativas (CERI)[1] , Periférico Norte 799, Núcleo Universitario Los Belenes, Zapopan, Jalisco. This conference, who will be a delicious mix of English with my fresh (and bad) Spanish, is intended for beginners : it will explain what a software is, what is the « source », what is « Free Software » and, of course, explain you why you want to try Ubuntu on your computer.
If you are in Guadalajara this Saturday, just come and take your friends with you. It's a good opportunity for non-techies to discover what free softwares are. See the complete schedule. After conferences, I think we will eat and spend the afternoon at LinuxCabal[2].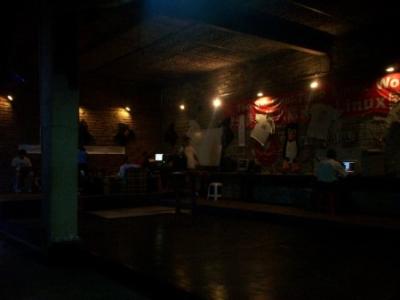 GNU/LinuxCave, the geek's vault
Notes
[1] Yes, I replace the « Linuxchicks of Guadalajara » conference which was unfortunately cancelled
[2] Thomas renamed it to LinuxCave or, better, GNU/LinuxCave.
As a writer and an engineer, I like to explore how technology impacts society. You can subscribe by email or by rss. I value privacy and never share your adress.
If you read French, you can support me by buying/sharing/reading my books and subscribing to my newsletter in French or RSS. I also develop Free Software.